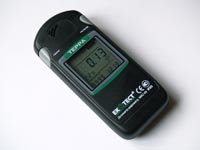 Technical characteristics. Usage impressions.
For the first time I have learned about the new Terra MKS-05 in the beginning of 2010. On a site of manufacturer, the Scientific & Production Private Enterprise "Sparing-Vist Center", there was a promising announcement of the updated device. This announcement has interested not only me, the one who three years using the "old" Terra MKS-05 in the Chernobyl Zone, but also many my friends and mates. About time of the appearance of the device on sale, the manufacturer evasively answered: soon, in the beginning of summer, in the end of June... Actually the device has been available in the end of summer and through advance order at that. So far, the device has been available in many Internet shops of Ukraine.
Dosimeter Terra MKS-05. New
So, the device, "in the flesh" and "real", lies on my table. Let's see how better/worse it is comparing with the previous version.
The device price has risen from 210$ to 280$ for the modification with Bluetooth (without Bluetooth 250$).  But taking into account expanded functional of the new device, I would consider the asking price more than reasonable.
Changes have applied even to package. The big beautiful silvery color case takes the place of an unpretentious cardboard box.
The delivery kit of the MKS-05 "TERRA" dosimeter-radiometer with Bluetooth channel includes: the devise itself, a leather case, an operating manual, the software for data exchange between the device and the PC (for Windows XP), and a warranty service coupon.
After opening the box, the first that jump to the eye - the big multi-data screen of a dosimeter. This idea was dimly felt – it is insulting to have a processor, handling at once few canals, and the unpretentious indicator of the "old" Terra which can show only something one: either EDR or ED or current time. The new screen delivers simultaneously the information about the measured ranges (EDR, ED, Beta-particles flux density), a measurement relative errors in percentage, a type and units of measurement, an alarm operation threshold, current time (in a mode of ED measurement - dose equivalent accumulation time). There is a pseudo-analog ten-segment indicator of registered radiation intensity. Also there is a low battery indication, audible, vibration and vibration-audible alarm, Bluetooth and an alarm clock.

Except the big screen, the updated Terra MKS-05 has got nonvolatile memory on 1200 cells where it is possible to record results of measurement, the Bluetooth interface for transfer results of measurement from the device to the computer (there is a cheaper version, without Bluetooth and accordingly without possibility of connection with the computer). To the audible alarm system it was added vibration, there is a possibility to establish an error of measurement, an alarm clock. Have increased time of calculation ED from 100 hours to 10 000 hours.
Purpose of use
Measurement of gamma and X-ray radiation ambient dose equivalent rate.
Measurement of gamma and X-ray radiation ambient dose equivalent.
Measurement of surface beta-particles flux density.
Measurement of ambient dose equivalent accumulation time.
Real time measurement (clock), alarm clock.
Features and innovations
Five independent measuring channels with alternate indication of data on the single liquid crystal display.
Built-in gamma, beta sensitive Geiger-Muller counter.
Prompt evaluation of gamma background within 10 seconds.
Automatic subtraction of gamma background at measurement of beta contamination.
Measurement results averaging, manually and automatically interrupted.
Audible, vibration and vibration-audible alarm of each detected gamma-quantum or beta-particle with possible switching off.
Two-tone audible, vibration and vibration-audible alarm of exceeded programmed threshold levels.
Built-in memory which allows storing up to 1200 measurements.
Mode of PC link via Bluetooth channel.
Two AAA size batteries.
Low battery indication.
Shock resistant body.
Small weight and dimension parameters.
The basic technical characteristics


Measurement ranges and basic relative errors:

Gamma and X-ray radiation equivalent dose rate (137Cs)

µSv/h

0,1…9 999;
±15%

Gamma and X-ray radiation equivalent dose (137Cs)

mSv

0,001…9 999;
±15%

Beta-particles flux density (90Sr+90Y)

1/(сm²·min)

10…100 000;
±20%

Equivalent dose accumulation time and accuracy of measurement

1min … 9 999h;
± 1min per 24 h
Energy ranges of measurement and energy dependence:

Gamma and X-ray radiation

MeV

0,05…3,0;
±25%

MeV

0,5…3,0;

Threshold level programming resolution for:
dose rate
dose
flux density

µSv/h
mSv
10³/cm²·min

0,01
0,01
0,01

Measurement time intervals

seconds

1…70

hours

1 500

Operating temperature range

°С

-20…+50

mm

120×52×26
Now I will stop more in detail on innovations.
Firstly about that, on the whole, I liked
The screen
The good, big, with nice dark blue backlight, obviously has been ordered specially for this model. As a whole impression is positive, but readership of the information on it, as for me, seemed a bit worse than at simple four digit LCD of old model. On advertising photos it looks improbably contrast and bright, in a reality it is slightly faded with the small viewing angles. The set of the displayed data is quite good, though I instead of an alarm system threshold would display ED. It seems to me it would be more expedient. One more moment (but it is more a question to the LCD manufacturer) - a pseudo-analog scale. The thing good and useful, but is realized extremely unsuccessfully. Segments are thin, in addition from above are shaded by a dividing strip of the screen which is only a little more thin the scale, as a result its visibility is bad, it is necessary to look narrowly attentively... The sense is lost – we can't speak about any operative estimation of level.
Non-volatile memory
At last the device got a non-volatile memory! Now after cut off the power or battery change, there is no need to adjust operating modes over again.

An error of measurement set-up
Useful function giving the chance to establish a statistical error of measurement in percentage (thus, by installation of high values, it is possible, by reducing accuracy, to reduce measurement time, for a fast operative estimation). On set-up at "00 %" - the device chooses a measurement error automatically according to speed of change of the measured quantity.
That I did not liked or what has caused some questions
Control and programming
I perfectly understand the manufacturer in this question. To change a control system and programming means to make the new case with different buttons (it is extremely desirable, numbering more than two)... And it is already a serious capital investments. Besides they didn't announce absolutely new model, and have only declared about upgrading of the old one. So all inconveniences of old model have remained in the new. In old model, control and programming by means of two buttons (tight and poor situated) was perceived as a heavy duty, in a new model, with its expanded purposefulness, it already a torture. I have spent of half-day for turning on a mode of constant backlight of the screen (come short of this necessary function in my "old" Terra MKS-05). In the maintenance instruction the following is told: press twice the button "Threshold", with an interval not more then 0,5 second... At some instant I even have decided that the instruction lies. But, I finally turn on the backlight! After the 573 attempt a fortune smiles upon me... It is turn off, by the way, by means of similar operation and 382 more attempts have spent on switching-off. Don't know, probably intervals of my pressing were not 0,5 sec, but 0,51 or, even worse - 0,53 second.

The audible and vibration alarm system
The sound of beeper became purer and a bit more loudly. About vibration... I am not sure that it was so necessary. But, anyway, implementation of a choice of type of the alarm has disappointed me. For me it was the most serious lack of the given device. I will remind how handy and simply it worked in old model: sound registration of each gamma quantum or a beta particle it was possible to turn on or turn off easily by simultaneous pressing the same two buttons. They keep this possibility now, but in some strange kind. Now by means of simultaneous pressing of two buttons it is possible to choose from three kinds of the alarm: a sound, a vibration, a sound+ vibration... Why do not add in this list one more mode: without any sound and vibration? But, the manufacturer however has taken pity and has left to users possibility of a complete turn off of a sound and vibration, but for some reason has thrust this on a "bottom" of the options menu and now, for such simple operation, it is necessary to pass all stages of installation of thresholds, measurement errors, and right at the end it is possible to turn off a sound (with vibration at the same time)... No talking about any prompt turn on or turn off in this case - it is out of the question.
That remains unvalued or simply hasn't interested
Data recording in memory and its transfer to the computer
There is no possibility to keep the data in an automatic mode with the set interval (as it is done, for example, in Gamma Scout). It will be need to record manually. But, here, I nevertheless quite understand the manufacturer (they tried to modernize, but in the same time to keep the reasonable price). The same Gamma Scout is twice more expensive then Terra MKS-05. Unfortunately I was not able to connect the device with the computer. The software from the kit, though even installed on my personal computer (all as asked: Windows XP), but has refused flatly to work.

What I like:
the big multi-data screen with uniform luminescent backlight. Possibility of constant turn on of backlight of the screen, possibility of programming of an error of measurement, non-volatile memory. And plus to all this, the same what I like in old
Terra MKS-05
: the qualitative, strong case, frugality, possibility of measurement EDR up to 10 µSv/h (1 R/h) (the majority of such class devices have a limit of measurement EDR just - 1 µSv/h (100 µR/h) or even less), the moderate price.

What I do not like:
inconvenience of the interface and buttons (inherited from the previous version of the device and aggravated by expanded purposefulness of the new version). Impossibility of any quick turn on or turn off the sound alarm..
The summary.
So let's rule off the review. Who can become interested in the given device? Professionals and usual users. Speaking about the pro, I mean not those who works constantly with ionizing radiation (more expensive and developed decisions have reliably registered for a long time in nuclear branch from "Dositech", "Harshaw"), I mean those who as obliges can have contact to radioactive materials ("can" in this case the keyword): employees of the Ministry of Emergency Situations, firemen, frontier guards and customs officers (not for nothing "an old" Terra MKS-05 is used in Ukraine Armed Forces, as a staff personal dosimeter) and also the usual users who suddenly felt insuperable requirement of measurement of "radiation" and having enough monetary means, not to limit themself with cheaper household "yellow" Terra-P.
Whether there was a necessity for such upgrade? I definitely consider, what yes, it was necessary and not because an old Terra MKS-05 so needed innovations but because it is always necessary to move further. How much it has appeared successful, I think time will show. Whether it became better? I would tell that it has received many new functions and possibilities, but not became worse (that is not so bad in general in our not simple time). All these new functions are definitely useful, though their realization as for me personally causes many questions. Nevertheless I consider all these defects insignificant, besides the majority of them can be eliminated by completion of the device software (well now the manufacturer listen to my muttering and revert soonest).
So on my own 10 degree scale, I can give to the device 8. Good device.
It is nice to see that a Terra MKS-05 has received certain popularity and respect. Reliable, precision, simple, inexpensive. The device is used not only in Ukraine, but also in other countries. Practically even one representative from each Ukrainian or foreign delegation, daily visiting the Chernobyl Zone of Alienation, can be seen either a
Terra-P
or an
Terra MKS-05
, it is very frequent not even localized versions, but devices with the Ukrainian inscriptions... I think it a rare occurrence when the Ukrainian manufacturer led into world market not with feedstock, but with a hi-tech product.
New and old Terra MKS-05 in a measurement EDR mode (equivalent dose rate) -

20 µSv/h (2 mR/h)

New and old Terra MKS-05 in a mode of measurement of beta-particles flux density -

20 000 CPM

New Terra MKS-05 in a mode of indication ED

0.2 mSv
Huge gratitude for the given device to Tatyana "сka" Filkina.
Author: Yevgen "KRANZ" Goncharenko
---