"Chernobyl-2" part - I
OTH-Radar "Chernobyl-2" and Center of space-communication
One week ago I has communicated with my good acquaintance Sergey Paskevich, the ecologist from Chornobyl "Ecocenter". He has been curious, whether I could visit the legendary and mysterious "Chernobyl-2"? How could I deliberate! To look at this masterpiece of design ideas closely, feel the spirit of bygone era, with its "cold war", stridulous slogans and tube-transistor radio equipment. All the week long I was ready to leave, in expectation of news from Sergey. And here at last all arranged already, the permission is received and also the admission is signed...
On October, 17th, 2007, 6.30 mornings, I sit down in the car and I go to the Zone...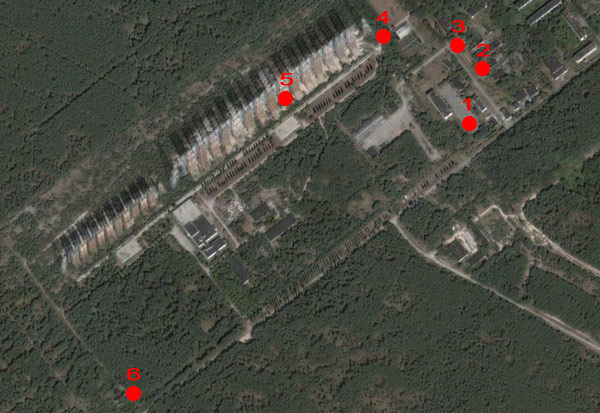 9.30 mornings. I drive up to Chornobyl. On the entrance to a city, to the right of road the lonely figure of the person in spotty camouflage pants and in a khaki colour jacket - Sergey already waits for me. And we together ride through a check point of "Leliv" (workers of the Zone persistently name it on "local" manners - "Lelov" :), we pass pair of kilometres in direction of ChNPP and we turn off on concrete-surfaced road, surrounded with pine wood. Between trees on horizon there were familiar outlines of cyclopean antennas of Ch-2. We turn off to the right to a check point. On check point Ch-2 two persons - man years about 50 and young guy of years 20, inside o check point heated and smells, as in a usual rural hut... They check ours admissions... Yes, all converges... We leave the car near a check point and pass on territory, once confidential object МD the USSR, OTH-Radar (over-the-horizon radar station) "Chernobyl-2".
1. A parade-ground
2. Evident propaganda
3. Road to on an antenna platform. 4. A check point.
5. Receiving antenna of the OTH-Radar Duga-3, known as "Chernobyl-2"
We stand on a sandy crest at a bottom of hundred fifty metre huge receiving aerials. And I in every way try to feel grandness of a design... I, as a mantra, repeat for myself: "146 metres – height of a "big" antenna (five usual nine-storey houses, placed on each other... Half of height of the Eiffel Tower, Paris), 90 metres height of "small" antenna, length of both aerials together about 750 metres, thousand tons of metal, a masterpiece of engineering-design thought..." It is hard... The truth tell: "Big sees from apart". The reason accepts, but eyes do not trust...
And as these aerials grandiosely rise over wood when you look at them from a fire tower of Korogod or simply standing on road between Korogod and Chornobyl!
It says that in windy days all the entire constriction drone and creak, and occasionally with crack noise breaks rusted bolts of fastening … Today is a splendid quiet and warm autumn day and silence reigned around the antennas.
Station "Chernobyl-2" have started to build in 1970. Eyewitnesses recollect the unique crane which used for installation of antennas. The especial detail that was amazing for everybody - the lift on which the crane operator rose in the booth. Elements of an antenna lattice have been made on factory "Gomselmash" in Belarus, from high-alloy steels and are covered by a thick layer of zinc, they even today, more than thirty years later, looks as new. "Chernobyl-2" – is the reception position, transferring one was for 60 kilometres on north-east direction near small town Ljubech, the Chernigov area. From the transmitting position of  OTH-Radar "Liubech-1" remains a little for today... Having reached the end of the second, "small" aerial, we turn off on left and we go to a two-storeyed building in the end of avenue.
6."The outer-space communication centre"
We come inside. An interior - is traditional "Zona like": fragments of equipment, disemboweled by collectors of metal, the engineering specifications scattered on a floor, mixed up with the ideological literature of that time.
By a rusty ladder I climb on a roof. These empty platforms from satellite aerials is well visible on Google's pictures.
Next stop of our small expedition - "Circle" (Station of back-inclined sounding of the ionosphere).
---