Zhytomyr Region, Narodychi District.


Bazar, Velyki Minki, Velyki Klishi, Rogi, Liubarka, Loznytsia, Mali Klishi, Shyshelivka, Zvizdal.
Zvizdal... All has begun with this "fantastic" name of the small woodlands village which I saw on a map. In Russian language its name in harmony with words Zvezda and Dal (Star and Expanse). Long winter months, spring slush... In my head this magic name constantly spun. I precisely knew all this time, where we will go, as soon as snow will descend :).
If to take the atlas of Ukraine it is possible to find hundreds "Novoselki" (the translation is "new homes"), "Kalinovka" (snowball tree), "Tarasovka" (from name Taras) and "Ukrainka" (Ukrainian), and here "Zvizdal" – just one...
And here on May, 1st, 2006 in 11 AM we leave Kyiv and we go in the western direction on road M-07 Kyiv - Kovel till the turn to village Baranivka. We go in Zvizdal.
We move down from a line, 26 km and we in "Zona obovjaskovogo vidselennya" (a zone of obligatory resettlement). Gamma background level near the road are about 40 mcR/h. Despite warning signs, "obligatory resettlement" in the village Bazar especially is not felt. Though some houses are thrown, village does not look "dead". On streets the people go, near shop already "celebrates" the 1st of May :). We stop near the young woman with the girl and ask how to pass to Velyki Minki. The woman shrugs shoulders: "I don't know, ask those who is more senior... We do not go there ". While we chose "whom is more senior" so all village have passed. A crotch in the village centre, the intuition and a map prompt – we should go forward.
The short historical reference.
The village Bazar in the Ukrainian history takes a special sad place. Here on November, 22nd, 1921 by forces of Red Army under G.Kotovskiy's command had been shot 359 captured soldiers of army of UNR (Ukrainian People Republic), participants of the Second Winter campaign.

Now in village about 70 court yard. A gamma background 40-60 mcR/h.
After 5 km along a very narrow (but asphalted) road and we drive in to the village... The Intuition has not let us down – it is Velyki Minki. Now in village is 3 inhabited "court yard", according to the local grandmother living with the grandfather on the entrance of village. The grandmother does not complain on a life. The electricity is present, the mobile store with products ones in a week comes, and the household - with a kitchen garden, hens and a cat.
Local FAP (medical attendant obstetrical station) and the club across the road.
In houses are empty, disassembled even ovens... Probably, except cast-iron doors have taken away also a fire-resistant brick from fire chambers. Almost from all roofs slate is removed... "Shine" now in the neighbor, inhabited villages.
Crotch... Judging by a map, we need to go on the left. We leave village. That's all, here already asphalt is not present, we go at random on country-track, grown with brightly green spring grass. Beauty around! Stop. Further there is no road - a rivulet Zvizdal and... Fragments of the wooden bridge. We come back in village. We will try to pass in a direction of Rudnia-Ososhnia.
| | |
| --- | --- |
| | |
Here through small river have got over and... Stuck in sand, have sat down on a belly. By the way any operator of a mobile communication in these parts does not work... Impossible to call for help, remains to hope on own forces. We climb under the car to dig it out of sand. On road nearby 50 mcR/h, a couple meters in wood - 100 mcR/h. We dig and pretend that we do not breathe a dust :). Have dug out! Natasha drive, I push. Move out! No, this way we will not pass. We should change a route and go to a detour. We come back in the Bazar and we leave on road to a direction of Narodichi. The following point of a stop village Velyki Klishchi.
By the way, only slip through vicinities of village we have understood etymology of its name. In Russian and Ukrainian Language the word Klishchi have two meanings – the pincers and the ticks. So it is not connected with the blacksmith's tool with the same name as I kept in mind. It is connected with the insects with the same name. And them here in a grass are valid in the large quantity :).
The central square of village. Shops, club, church. A gamma background from 50 to 170 mcR/h. In village there lives one grandmother, but where exactly we do not know, and as far as I know she does not love gatecrashers.
The following point of a stop - village Rogi. Here already precisely nobody lives... The most part of houses is destroyed. A gamma background 40 80 mcR/h.
With short stops we pass Liubarka and Loznitsia. In them, as far as I know, for two villages there are inhabited court yard about 5 - 7. A gamma background 50 70 mcR/h.
Turn after Loznitsja and we leave on the most beautiful, surrounded with bogs and woods road. About 5 km and we are slowly rolled in village Mali Klishchi.
Here is a check point. We pass all necessary "procedures" and the sergeant of militia lifts a barrier, at last asking to be cautious in wood with fire. We drive on territory of the Zone of Alienation and unconditional (obligatory) resettlement. A gamma background 60 - 90 mcR/h.
About 8 km on a wonderful wood path, with absolutely broken asphalt, and we in village
Shishelivka
. Silence and peace. The evening sun fills in this small woodlands village with warm yellow light. It seems almost perceived as though it streams on overgrown small streets, follows from empty windows of derelict houses. A gamma background in village 70-100 mcR/h.
We leave village and after 1 km we get on a crossroads. To the right road to Mali Minki on the left in Zvizdal. Directly granite stele with almost not readable inscription: "On this place in the autumn of 1921 the Red Army has crushed the big grouping of White bandits".
Here it, a notorious place where have got to an encirclement 900 fighters of army of UNR under command of general-cornet Y.Tiutiunnyk...
400 were lost on this place in fight, others, taken prisoner, 5 days later have shot in village Bazar.
Soldiers of UNR who have killed in battle at Zvizdal, inhabitants of village have buried in communal graves in wood and secretly looked after tombs (despite reprisals of the Soviet KGB) up to 2001, when remains of victims were reburied in a memorial has sat down in the village Bazar.
Here and a terminal point of our trip - village with the fantastic name Zvizdal. Further the road for the car is not present so we go by foot.
The central part of village: a bus stop, club, a dining room, the rests of evident propaganda, a monument to victims in the Second World War. Very touchingly looks supports under movie cameras in a film box of club and the magazines of 80th of last century scattered on a floor with pictured brawny workers and builders on covers.
Hi Zvizdal, - the small woodlands village, one of dead villages of a zone of alienation. On some maps its name writes with faintly grey letters, on others places in brackets... All my attempts to find though any information about it, returned me to history of defeat of army of UNR and short reports of Soviet Information Bureau in 1943 about "victorious fights on the western direction".
Already after publication of the report, the history of Zvizdal has received continuation. I was contacted by the grand daughter of Litvinenko Maxim Romanovich - village headman of Zvizdal. Being a "wealthy man", he was expropriated in the 30s and worked as a huntsman from then on. Maxim Litvinenko's big house was expropriated for a club. During the Second World war, he was the headman of the village. After the war, again was sent to a "camp". In the 50s has returned from prison at home and he was right now "register himself " before the Soviet power by demonstrative restoration of the broken birch crosses on Cossacks Army UNR tombs... After that Maxim Romanovich Litvinenko was gone in obscurity... ll attempts of his relatives to receive any information about his destiny from the KGB of the USSR (and later the FSB of Russia) didn't yield any results. And, unfortunately, I couldn't obtain any information about M. R. Litvinenko as well. But it seems to me that having such courageous and strong-willed character and so hot "love" to the Soviet power, most likely that old Cossack has moved "in wood" to guerrillas of UPA where has disappeared...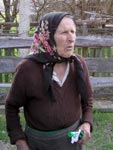 Here local old residents. Granny Nadja (on a photo) and grandfather Petro. They were born in 1925. Here were born and have lived all life. Do not complain for a life. Have the rather big household: a cow, a horse, hens, an apiary, a kitchen garden. Until recently there was an electricity... But someone has stolen all wires... The mobile store does not go to them in village, so bread is a problem, to get it they need to go to Mali Klishchi (about 9 km). The life in an alienation zone is uneasy and dangerous. Except soil pollution of radionuclids in which, of course, neither the grandfather nor the granny do not believe; there are dangers simple and rough - gangsters, the 6 persons about five years ago came - beat, tortured - searched for gold... Have taken away all pension (almost for a year)... To wood often there come poachers... Very often these trips come to an end with forest fires. 
An attempt to give to old men any money has caused a storm of indignation and insult: "What for money for us!? We have money". And granny Nadja victoriously extends from an old small purse crushed 2 grivnya (about 0,4$). At last awkwardness is smoothed and in reconciliation we remove from the auto-first-aid set a medicine and bandage, providently having written with large letters on packings of tablets - "Stomach", "Head" :). In response granny Nadja takes out from chamber the whole plate of tasty honey in honeycombs. Attempts to leave them a plate have ended with failure. "I have hundred of such plates" - proudly has declared the grandmother. So we have taken away honey together with a plate. According to granny Nadja and grand-dad Petro in village there lives one more family.

Gamma background in village nearby 50-80 mcR/h, nearby in wood up to 200 mcR/h.
We say goodbye to granny Nadja and grand-dad Petro. The sun is already low and we hasten before dark to get out on a line Kyiv-Kovel. 

Good-bye woodlands country. We take with ourselves at home to Kyiv warm golden light of the setting sun, singing of birds and murmur of a small rivulet with fantastically glittering, as the sky in August, name Zvizdal.