The Kyiv area.

Chornobyl Zone of Alienation ("the Western track").

Cherevach, Kopachi, Stechanka, Lubianka, Tovsty Lis, Nova Krasnytsia, Rechitsia, Stari Shepelychi.


The 9th of May, 2006. We go on villages of "the western track" of the alienation zones. A final point of our travel - village Tovsty Lis (Thick Wood). Deaf Places, people come there seldom... "Dirty"...
The first stop in "30" - village Cherevach. Each time visiting the Zone, we have slipped it without noticing. Today we have decided to change this rule.
| | |
| --- | --- |
| | |
We have driven in "10". The following stop village Kopachi... About Kopachi it is written a lot, may be simply it "have luck" – the village situated directly near station and where you would not go, to Pripyat or on ChNPP, you will always see behind a car window picturesque, become overgrown with a grass hillocks on a place of buried houses with yellow-red badges of a radio-activity... It is a pity only that all what written about Kopachi - "after emergency". I can not to find anything about a life of this village before failure. One of left whole buildings in Kopachi - a kindergarten, near it is a monument to the soldiers of RККА (Red Army), who have lost in the Second World War. How many time I have passed it, but never came there. But today on May, 9th, I have looked at a monument, and have stopped the car... Passing on by the alley from a monument to a kindergarten I have recollected Rimma Kiselitsa, guide from ChII. She has died in March, this year. The photo ran into memory - Rimma in Kopachi near kindergarten doors... Near a kindergarten a background nearby 2 mR/h.
ChNPP, Pripyat and station Janiv remained behind and... Here is the first obstacle - the road on Buriakivka is blocked. I turn round the car - we will go to a detour through Stechanka, Ilintsi and Rudnia-Ilinetska. Buriakivka, village rather symbolical for the Zone. Small and than especially not well-known, it gives name to one of the greatest in the Zone radioactive burial ground (or as it is called officially, PZRO (Point of the Burial place of the Radioactive Waste)). As a result word "Buriakivka" became a common noun and even has replaced with itself a word "cemetery". Actually this PZRO "Buriakivka" is not too close to the village with the same name. But, today we willl not get to Buriakivka, as in connection with a detour, our route was considerably extended. We turn off on the southwest and we continue a way to an environment of dead wood.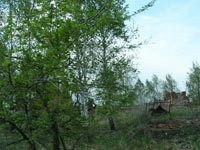 We leave the limits of "10". Behind a window flashes the rests of the burnt down houses - Stechanka. One of the villages which have burnt down completely during a strong fire of 1996. All that remains from houses, are ovens and iron beds... Further is Ilintsi - "not absolutely dead" village of "30". In village about 5 inhabited court yard, it is visible the beds of kitchen gardens.
We pass wonderful small, "a mountain" kind a rivulet with the name Illia. Further some turns and we pass village Lubianka. We turn off on Nova Krasnytsia. We almost near the purpose - from here to Tovsty Lis about kilometers ten, not more... Here the second our problem - across road lies big enough tumbled down tree... At some instant I have thought that today we will not get in Tovsty Lis...
As we managed to put it out of the way is not clearly to me till now :).
About a half an hour were taken with it, but we have made it! 
That's all, now forward.
Here we have arrived to "the very heart" of "the western trace".
The village Tovsty Lis is mentioned for the first time in historical documents in 1447. In 1570 its part has been given by Kiev voevode Andrey Nemirovich to a Kiev-Mihajlovskiy monastery and confirmed by the Polish kings Sigizmund the First and the Second. It was well-known also by its wooden church in style of the Ukrainian baroque, constructed in 1760 and burnt down completely in 1996.
There have passed 10 years and the nature has healed wounds put by fire, only all same dilapidated ovens and skeletons of iron beds around... And all in the spring blossom... We in the village centre. The rests of club and a monument to Lenin, on the right is the school, one of the rare left whole buildings. On a floor of school there is a mountain of not distributed school progress records and school-leaving certificates. But the strongest impression is a monument to "the Soviet soldier"... Its the Ukrainian poetess Lina Kostenko named "the Stone guard of dead villages". Gamma background in village up to 2mR/h.
We hold small meeting and our "expedition" decides not to go back by the same road, and to try to make the way through Nova Krasnytsia in Rechitsia and further to Stari Shepelychi.
Rechitsia
In a fire of 96 were burnt down almost by half of village.
Without reaching to the centre I stop the car and we go on village by foot.
The village looks very unusually. Small houses stands practically end-to-end to each other, court yard practically are not present, and all it together more similar on small summer residences. We in the village centre... School workshops with joiner's workbenches, a storage place with floor scales and L.I.Brezhnev's book, post office - it is a library and club in the same time, with a collapsed ceiling. The monument, is more exact a pedestal with the list of fellows villagers - the victims of the Second World War.
In post office wall very touching and in the same time the severe announcement - the prevention that parcels with a potato, sprouts and saplings are not accepted. And having seen the poster "our postal index" I has felt a lump in a throat... Not either village Rechitsia any longer, not postal index any more.
In post office we were intrigued with tightly closed door (a photo on the centre)... "The great Secret" of Rechitsia post office has opened quickly enough: the closed room was a local savings bank, but thieves have decided not to suffer with the lock, and have simply broken out a lattice in a window...
The monument to "the Soviet soldier" we have found on a floor in a club film equipment room. There is enough painful sight... As if it have dug on shoulders in the earth... Gamma background in village up to 1mR/h.

Grows dark, the rain gathers and we continue to move further. At last we have found conformity of one of our cards to our route and it is gives us hope :).

Next stop – the village Stari Shepelychi.
The rain has begun and we hide our photo equipment under yellow waterproof "Pripyat-com" jackets. We sit down in the car and go at a slow pace on a road. Here thecheck point "Benivka" - we have drive out!

As as it should be in the Zone, we have returned back by other road...
---